The possibilities are endless to find some romantic things to do in Niagara Falls for Valentine's Day, but here are just a few suggestions:
Treat Your Loved One to a Spa Day

You are in luck! Since Niagara Falls is considered one of the most romantic destinations in the world for travel, it caters to couples. There are hundreds of spas to choose from, both here in the city and in beautiful, historic Niagara-on-the-Lake.
Wondering which one to choose? These 8 Niagara Falls Hotels have spa amenities to make your booking your Valentine's Day that much better!
Horse and Carriage Rides
Just choose your backdrop. Do you want a romantic ride along the Niagara Parkway with the majestic Niagara Falls as the centrepiece? Then look no further than Queen Victoria Park! You will receive a breathtaking view of the escarpment, gorge, and the Niagara River. These tours are year round (weather permitting) and the horse and carriage rides are available during the Winter months (until March) on Saturday evenings from 5:00 pm – 10:00 pm. Tickets can be purchased at the Queen Victoria Park Gift Shop. 
Tickets are purchased at the Queen Victoria Park Gift Shop: 6345 Niagara Parkway, Niagara Falls.
| | |
| --- | --- |
| 15 minute tour | $50.00 |
| 30 minute tour | $90.00 |
| 45 minute tour | $120.00 |
| 80 minute tour | $200.00 |
Would you prefer a horse and carriage ride in Niagara-on-the-Lake? Experience the history, view the majestic homes and peaceful scenery of Sentineal Carriages. These Old Town Tours are available from The Prince Of Wales Hotel at the crossroads of King and Queen Street. This is a guided tour that includes the main street, along the water front and through the picturesque streets of the Old Town.
30 minutes: $80
45 minutes: $115
1 hour: $145
Reservations are required and the Winter hours have these tours available on Saturdays 11:00 am to 11:30 pm and Sundays from 11:00 am – 8:00 pm *Weather Permitting*. Monday to Friday is also available by reservation only. For Valentine's Day especially, you should call and make a reservation ASAP. Please call: 905-468-4943.
Visit the Wineries 
If you are still struggling with finding things to do in Niagara Falls for Valentine's Day than you must visit one of our world-famous wineries! Niagara is "wine country" and the beautiful countryside no matter the season is a "must see". The Niagara Region alone has over 50 wineries, with 25 vineyards in Niagara-on-the-Lake.
There are a number of wineries serving up Valentine's Dinners, here's a short list:
Peller Estates www.peller.com
1-888-673-5537 x 2
Celebrate Valentine's Day with this themed blind tasting menu by Chef Jason Parsons. Reservations are from 5:00 pm to 9:00 pm on Friday and Saturday, and 5:30 to 8:30 pm on Monday and Tuesday. Please call to book. Available February 11th to the 14th, 2017. Five-Course Meal: $89, 7-Course Meal: $109.
Casablanca Winery Inn www.casablancawineryinn.com
1-877-446-5746
On Saturday, February 11th and/or Tuesday, February 14th, 2017, the Casablanca Winery Inn will host a romantic Valentine's Dinner for Two in their stunning restaurant that overlooks Lake Ontario. Cost: $109/couple + tax and gratuity
Two Sisters Vineyards www.twosistersvineyards.com
905-468-0592 ext. 22
On Tuesday, February 14th, enjoy a delicious 3-course Tuscan-inspired menu with decadent wines. You will be greeted with a glass of elegant sparkling Lush to start the evening and finished with an Icewine pairing for dessert. Evening seating times: 5pm, 5:30, 6pm and 7:30, 8pm 8:30 Call ahead for reservations. $95 per person / $80 for Wine Club Members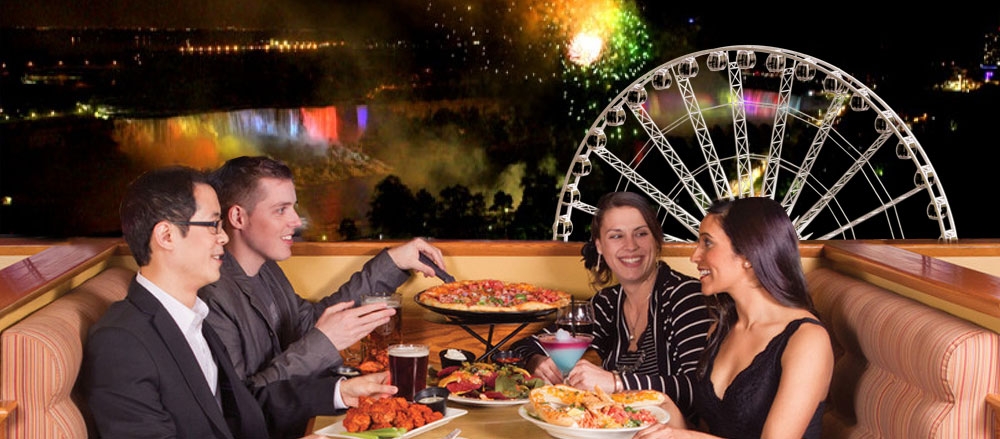 Come to Clifton Hill!
If you are looking for a fun night out with great food and attractions, consider coming to Clifton Hill. We are the home to Boston Pizza Clifton Hill where we will once again be participating in the heart-shaped pizza extravaganza. $1 from every heart-shaped pizza sold on Valentine's Day in Niagara Falls goes to the "Boston Pizza Foundation Future Prospects". This foundation helps to support youth in the communities and across the country, in partnership with organizations such as Big Brothers Big Sisters, Kids Help Phone, Live Different, JDRF and other programs that help mentor kids to reach their full potential.
Fudge Factory
No stop to Clifton Hill is complete without heading in to the Fudge Factory for your Valentine's chocolate and treat indulgences! With so much to choose from, you're bound to find something sweet for your significant other to enjoy. Watch this video as Fudge Cook Kris makes fresh candy apples with creations made specific to Valentine's Day:
After your stop at the Fudge Factory, head inside the Fun Factory and experience a one-of-a-kind gift idea by getting two hands molded into one – I'm talking about getting your hands waxed at the Wax Hand Emporium! It's a creative, inexpensive and unique souvenir to always remember your Valentine's Day in Niagara Falls, and it's offered right here on Clifton Hill. Choose your colours, message, single-hand or two! It's up to you.
Read: "Ways to Heat Up The Romance This Winter" for more ideas!