Niagara Falls March Break on Clifton Hill Offers Fun for the Whole Family
It's that time of year again, when Canadians plan March Break activities for the whole family. Many parents take time to plan a special getaway closer to home, usually to an interesting local destination filled with fun and friendly activities.
Families looking for entertainment and attractions have many great options to choose a Niagara Falls March Break. After traveling with family and getting settled in the cataract city, be sure to plan several sightseeing excursions and quality time — most specifically on Clifton Hill, to keep the fun going all week-long!
Choosing a family-friendly Niagara Falls hotel close to our attractions, restaurants, and shopping facilities is easy with our help. We have an online directory that features our nearby hotels, plus those hotels close to the Fallsview District for close access to the Fallsview Casino, and Lundy's Lane, for those of you looking to shop 'till you drop! Click here to get started.
Clifton Hill Packages
To get the best savings on your favourite Niagara Falls theme rides, game tokens and restaurant specials, book online with our Niagara Falls Build-A-Package option. There is no hotel booking required to take advantage of this package…just point. click, order, and start saving!: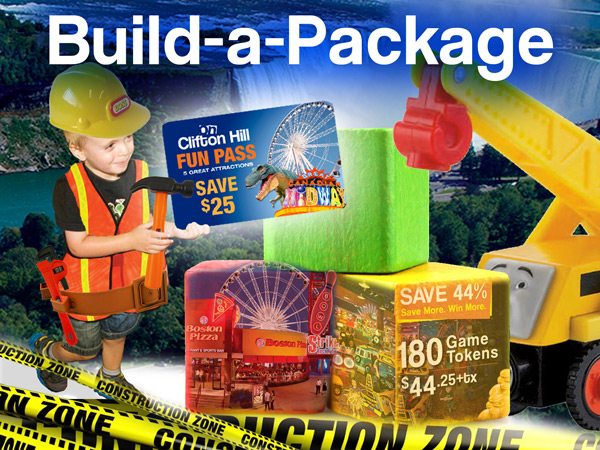 Howard Johnson Hotel by the Falls Niagara Family Fun Package: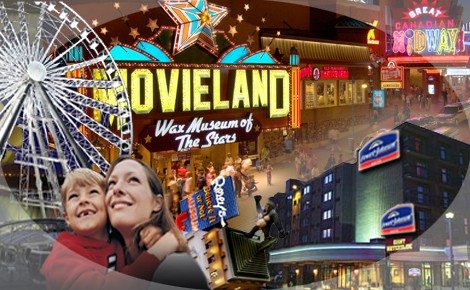 Niagara Falls Courtyard by Marriott Kids Love Niagara Package:

Families looking for the biggest value on attractions will want to take advantage of the Clifton Hill FUN PASS, which offers 5 great attractions at one low price. These passes will save you 50% from the individual ticketed prices of each attraction. Adults are $25.95 and Children are $19.95. Buying these passes online is the best way to go, in order to get the added value of a BONUS SkyWheel admission — go twice!
Click the Fun Pass below to get started on your online order: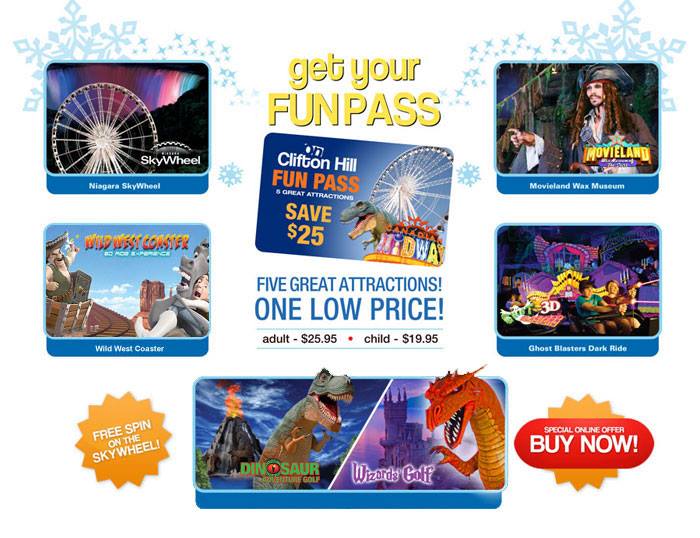 To help with your March Break vacation plans, below is a list of activities and events happening during March Break in Niagara:
St. Patrick's Day at Boston Pizza Clifton Hill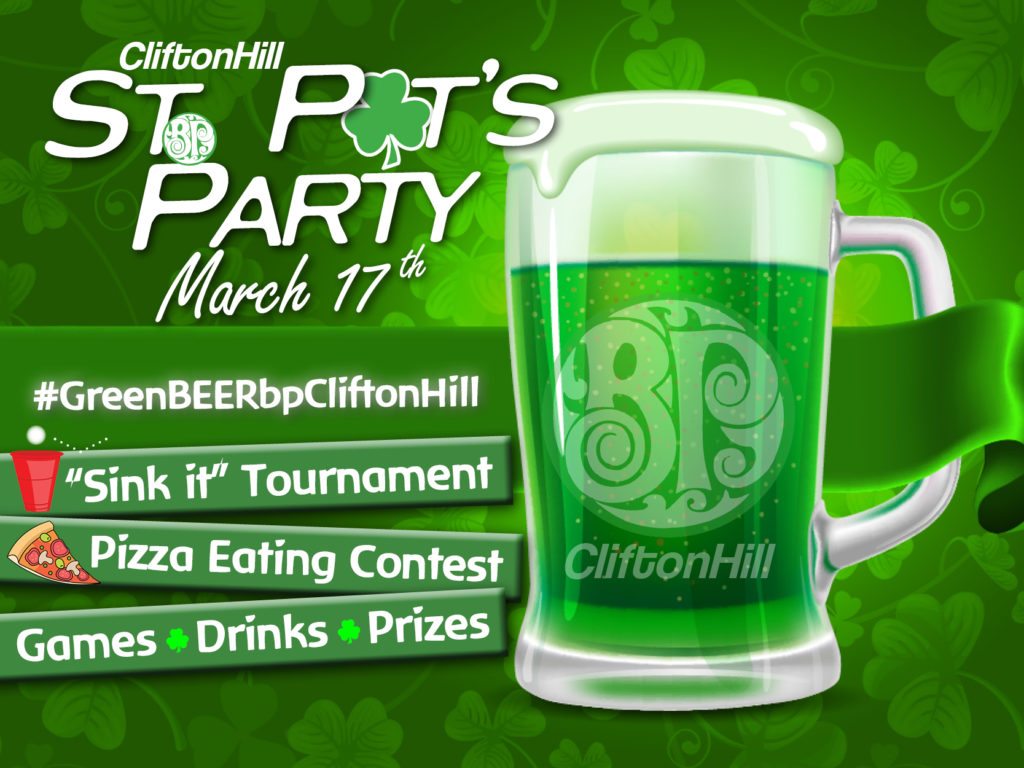 Join us at Boston Pizza Clifton Hill for our Annual St.Patrick's Day Party!
The fun starts from 11:00 am to close at 2:00 am.
Green beer, a "Sink it" Tournament, a pizza eating contest, plus games and prizes all day long!
Niagara Falls Illumination:
Every evening beginning at dusk the Falls are lit in the colours of the rainbow – don't miss the unmatched beauty of the Falls at night
* March 8 to March 31 Mon-Thurs 8:30 p.m. 11:00 p.m.
**Fridays to Sundays in March & April, Off time is Midnight**
For the NEW Niagara Falls Illumination Schedule for all of 2016 click here.
Falls Illumination
Every Night the Falls are lit in the colours of the rainbow – see the beauty of the Falls at night!… more
Magique A stage spectacular of epic proportions, Kevin & Caruso fascinate audiences with their award-winning production

…

more
Strike Rock N Bowl
Top family entertainment complex featuring 25,000 sq ft of gaming fun plus Boston Pizza… more

Niagara

SkyWheel


Soar 175 feet above the Falls for the most spectacular view you'll ever experience… more

"We are the Insects"
This family friendly exhibition is included complimentary with your admission to the Butterfly Conservatory and features a variety of educational displays along with live specimens… more

Greg

Frewin

Show
Imagine Magic! Come to Clifton Hill & see the Int. Grand Champion of Magic perform … more

Canadian Midway
70,000 square feet of fun located in the heart of Clifton Hill; Featuring over 300 games!… more

March Break at the Museum


Explore the prehistoric world of dinosaurs with Club Rex @ 11am & 1pm! Get hands-on with their collection of dinosaur skulls, claws, teeth and real fossils!…

more
Annual Easter Display @ Floral Showhouse
The Easter show features a cross display of lilies surrounded by colourful and fragrant spring flowers such as daffodils, tulips, hyacinths and azaleas…. more
Ghost Blasters
Your adventure begins by entering the

Bleakstone

Manor where you'll be confronted by an army of ghosts…. more
Dragons Den Auditions
Now is your chance to test your idea out to be on the CBC hit TV Show Dragon's Den!….more
Wild West Coaster
Imagine being whooshed into a virtual world, where you lift and turn and move and twist into elaborate scenery…. more
Dine in Niagara's ultimate family-friendly restaurant, Boston Pizza Clifton Hill (surrounded by arcade games, and even a bowling alley!), with our newest online deal.
Spend $20 and get a $25 Boston Pizza Clifton Hill Dining Voucher! Spend $40 and get a $50 meal voucher! Get added value when you order online and choose the "Family Meal Deal" option. Click below to get started: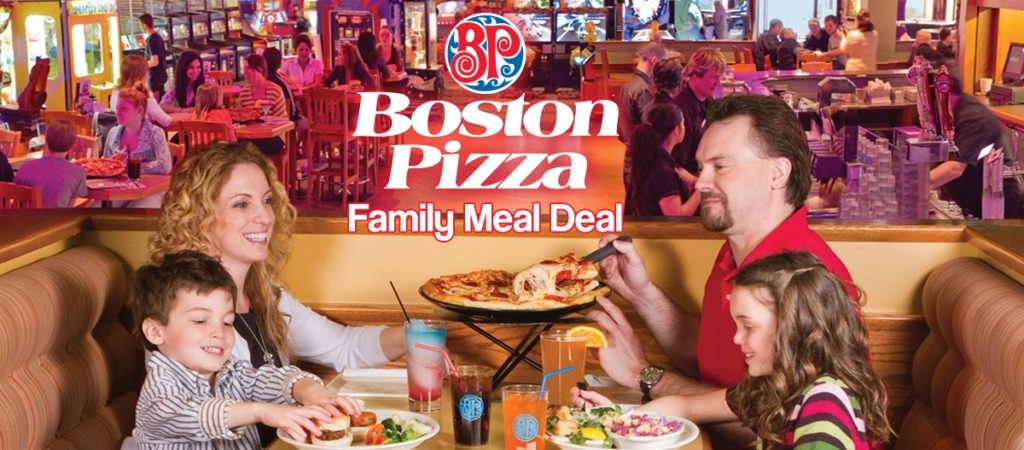 If you decide on a Niagara Falls March Break, you can be sure it will be busy. Finding parking close to all of the Clifton Hill amenities and the Niagara Falls can be tricky, but not at this parking lot. You have direct access to Clifton Hill and you are only a couple of minutes from viewing the Falls.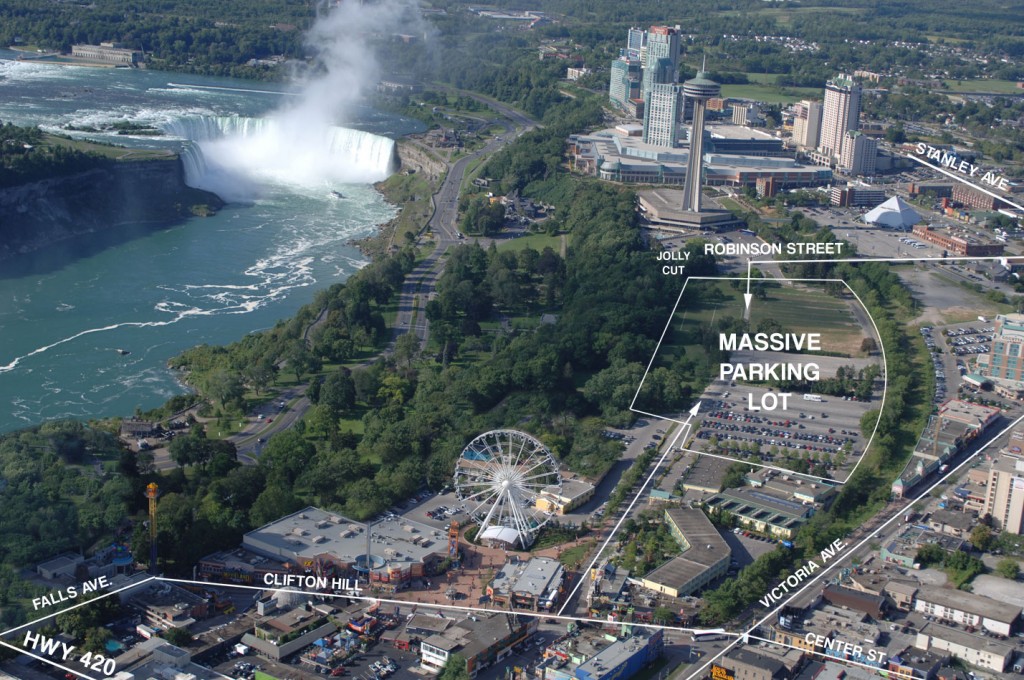 From Toronto:
-QEW toward East Hamilton/Niagara/Fort Erie.
-Keep left to take Hwy 420 E via exit 30A toward The Falls/Niagara Falls U.S.A.
-Take Stanley Ave/RR-102 towards "Alternate To Falls".
-Turn left onto Robinson St.
-At the end of Robinson Street is a dead-end. There is a huge parking lot on the left-hand side with plenty of parking.
From Buffalo:
-I-190 N/New York State Thruway toward Peace Bridge/Ft. Erie, Canada.
-Take exit 9 towards the Peace Bridge.
-left onto Peace Bridge Plz/Peace Bridge.
-Peace Bridge becomes QEW.
-Marge onto Hwy 420 E via exit 30 towards Niagara Falls/Niagara Falls U.S.A.
-Take Stanley Av./RR-102 towards "Alternate to the Falls".
-Turn left onto Robinson Street.
-At the end of Robinson Street is a dead-end. There is a huge parking lot on the left-hand side with plenty of parking.
**For more information on this parking lot, click here.
There is plenty to do on a Niagara Falls March Break vacation. Stay connected to me for more things to do in Niagara Falls for families in March — and year round!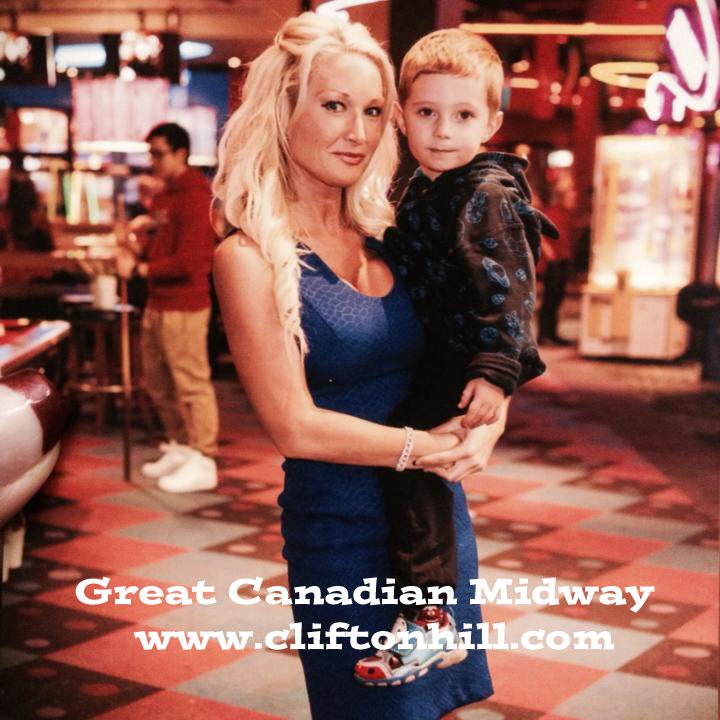 Christine Lynn
Facebook: www.CliftonHill.com/fb
Twitter: www.CliftonHill.com/twt
Google+: www.CliftonHill.com/gplus
Pinterest: www.CliftonHill.com/pin
Instagram: @cliftonhillfun