Comfort Inn Clifton Hill Honoured in the 2013 Tripadvisor Travellers' Choice Hotels Awards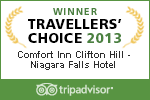 Niagara Falls, ON (March 27, 2013) – Niagara Falls' very own Clifton Hill Niagara Falls Hotel, is pleased to announce it has been selected as top ten winner in the "Family Hotels" category by TripAdvisor in its 2013 Travellers' Choice® awards.
Now in its eleventh year, the annual TripAdvisor Travellers' Choice awards honour the world's best hotels, earning their distinction from those who know them best – real travelers. Unlike any other hotel honours, TripAdvisor Travelers' Choice winners are based on millions of valuable reviews and opinions from travelers around the world.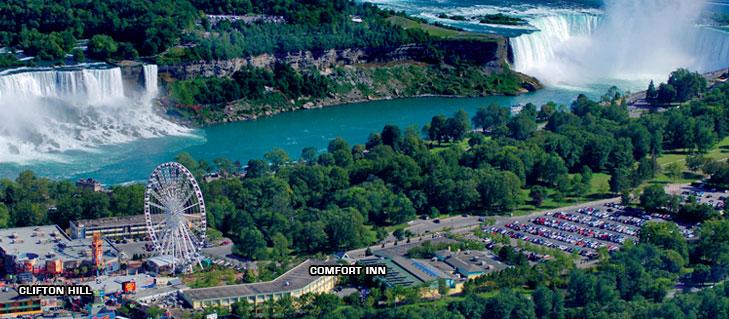 Conveniently located one block from the awe-inspiring Niagara Falls lookout, amidst a variety of tourist attractions, Comfort Inn Clifton Hill is an ideal destination for families looking to explore the sights and sounds of Niagara Falls, Canada. Outstanding package offers, affordable rates, and complimentary services including free WIFI and free deluxe breakfast help to eliminate "extra" expenses, and keep families coming back to this Niagara Falls gem. Also, the hotels "Build a Package" booking system provides a winning addition that is perfect for creating tailor made adventures in Niagara Falls.
"Receiving this award is a great honour" it is wonderful for our associates to see that their hard work and hospitality goes a long way in meeting and surpassing our guests expectations says, Patrick Clary, Director of Sales, Comfort Inn Clifton Hill.
"TripAdvisor is once again thrilled to recognize the world's most outstanding hotels with the help of more than 75 million reviews and opinions from travelers around the globe," said Christine Petersen, president, TripAdvisor for Business. "From the best bargain hotels to top luxury properties, outstanding service, value and quality are the hallmarks of our Travelers' Choice winners."
For reviews on the Comfort Inn Clifton Hill, go to www.tripadvisor.com.
To see 2013 Travellers' Choice winners, go to www.tripadvisor.co.uk/TravelersChoice.
Reservations at the Comfort Inn Clifton Hill can be made by calling 1-800-263-2557 or by visiting https://www.cliftonhill.com/niagara-falls-hotels