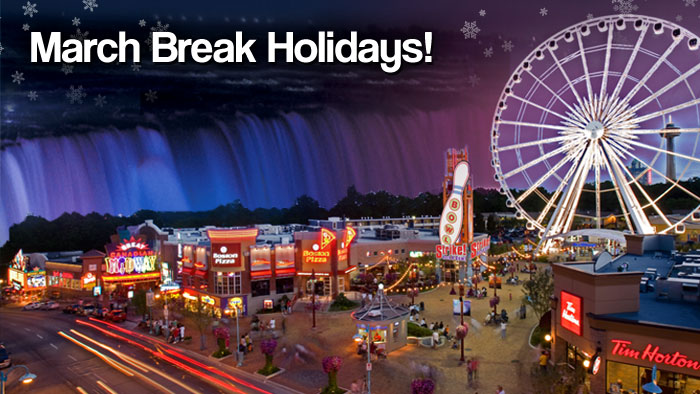 You blink and it's here. March Break. Parents without a March Break plan face the possibility of spending their own hard-earned holidays ensuring the family isn't bored – or worse – testing each other's patience for an entire week. We've all been there before, booking a last minute getaway with the best intentions, only to have its foundation crumble before your eyes because you never took into account last minute details that you should have tweaked beforehand. Whether it be financial savings, or preparing for any injuries that quite possibly, and with all probability with a little one, may occur. Suddenly your vacation starts to unravel and you feel totally incompetent because its the little things that can really make or break your vacation and could have easily been avoided.
With March Break only a couple of weeks away, booking a last-minute getaway so the whole family can unwind isn't as impossible as it may sound.  The perfect destination can still be found for all types of families and budgets. From getting the best possible deal to ensuring the family stays safe, here are some helpful…and quite often, overlooked tips.
There ARE last minute getaway options for families, not just couples without children. 
Many hotels often offer package savings that you won't necessarily be aware of unless you do research beforehand. Be your own Private Investigator. If there is a certain hotel chain that you are fond of, check out their website, subscribe to their newsletter, read their blog postings or even become a "fan" of their social media pages. You will find that many hotel chains advertise through this route and have monthly and even weekly special savings…maybe even contest giveaways!…that can greatly benefit you in the long run. As an example, the Comfort Inn Clifton Hill in Niagara Falls offers all the above in their website and continuously sustains many special offers and package deals year round.
https://www.cliftonhill.com/niagara-falls-packages and follow them socially on Facebook "Comfort Inn Clifton Hill: Niagara Falls Hotel and Resort" and/or on Twitter "@cliftonhillfun" and "@Niagara_Hotel".
Since travelling with the whole clan can get pricey – vacationers need to start saving even before going on holiday. Consider a pre-packaged vacation that includes meals, which limits the need to spend more money while on holiday. The Comfort Inn always offers a complimentary breakfast with your stay, ensuring cost-effective savings on your most important meal of the day! Most establishments in tourist destinations will charge you an obscene amount of money to crack open an egg and fry some bacon…and if you have a family of four, consider that a savings of close to, if not more, than $60. Navigate your way through their website and you will find additional package savings complete with meal vouchers at family friendly establishments such as Kelsey's and Boston Pizza!
https://www.cliftonhill.com/niagara-falls-restaurants
Alleviate boredom!
From destination activities like theme parks, water parks and museums for the kids to shopping, tours and golf outings for the parents, you need to ensure a memorable and lively holiday. For families who prefer to stay on a resort than venture off property, a hotel with an indoor pool or games room could help offset a rainy day when the kids are forced to stay indoors. For everyone else, look to book with a hotel that is affiliated with or offers significant savings with many local attractions that you can ALL enjoy. If you are looking to book a trip to Niagara Falls, the Comfort Inn Clifton Hill offers just that…attraction savings off property such as the Greg Frewin Magic Show and the Niagara Helicopter Tours to hitting up five side-by-side attractions just a mere couple of minutes from each other with the Clifton Hill Fun Pass!
www.cliftonhill.com/packages/build-a-package-deals/helicopter-tour
Smartly Organize Your Packing
This one I can't emphasize enough. Years ago when my husband moved back to Ontario from British Columbia with a few of his closest friends, he literally brought his entire wardrobe with him in one shot with the false understanding that he would be under the baggage weight. He was wrong. There he was, 15 minutes until boarding time throwing away sweaters, shoes and a few pairs of jeans all in the name of being under the required weight. If you have children, you know that traveling light is not an option. Make sure that you evenly distribute luggage weight. If you are 10 lbs over and your spouse is 10 lbs under in baggage weight…you know what to do. Transfer items from your suitcase to the other! And let's be honest, it's usually us women that carry all the "extras"…think curling irons, makeup, five different pairs of shoes "just in case" you find a need to finally wear those stilettos. You get the point. Make sure you check with your airline ahead of time regarding stroller and childseat guidelines as well. You don't want any last minute surprises.
Share the excitement
Encourage kids of all ages to document their experiences with photos or diary entries.  Nominating them as the 'official family photographer' will not only keep them busy, but memories captured can then be shared on social media sites or in photo albums or framed pictures that can be hung in your home…and remember to have them tag their memories with the hotel or attraction of their choosing as well! They will appreciate the feedback and the response will ignite a sense of importance in your children as well. It's a win-win.
Stay safe
Travelling is inherently risky, so the wise vacationer will take preventative precautions, including visiting a travel clinic that can set them up with prescriptions and antibiotics ahead of time. It's always a good idea to have the whole family visit the doctor before you go, that way you can tackle ahead of time any preventative measures needed to avoid a potentially disastrous trip. When you check-in at the hotel, don't be afraid to ask where the closest hospital is located, and if needed, have them supply you with a map. You may not think this will be necessary, but usually when you are on vacation you drink more and this will lower your inhibitions. That stair you so easily stepped up when you checked in may be a bomb waiting to detonate after a few alcoholic beverages. Also, carry a first aid kit with you. Bandaids, gauze, tweezers, whatever. You never know when you may need them. Stay safe and have fun!
Wherever you decide to go during your March Break getaway, follow these tips for a successful, stress-free, family FUN vacation! Enjoy and stay safe :).
Christine